Willkommen zum 12. Berliner Handball-Cup
Ausführliche Turnierinformationen stellen wir Euch auf www.berlin-ostercup.de zur Verfügung.
Bereits zum 12. Mal startet in diesem Jahr der Berlin Handball Cup. Erneut wird der Bezirk Lichtenberg zum Treffpunkt von Handballern aus vielen verschiedenen Ländern und ca. zehn Sporthallen des Bezirkes werden Austragungsort von spannenden sportlichen Wettkämpfen. Organisatorisches und sportliches Zentrum ist wie in jedem Jahr die Große Halle des Berliner Sportforums, des größten Sport- und Trainingszentrums in Europa.

Bereits am Freitag beginnt das Turnier mit der Anreise der Mannschaften.

Am Samstag bestreiten die Teams dann die Vorrundenspiele, am Sonntag schließen sich die Final- und Plazierungsspiele an. In der Regel ist jede Mannschaft fünfmal sportlich gefordert: in drei Vorrunden- und zwei Plazierungs- bzw. Finalspielen von jeweils 25 Minuten Dauer.

Nachdem nach packenden Finals die Sieger und Plazierten feststehen, klingt der Sonntag mit einer großen Sportlerdisco aus. Am Montag machen sich die Mannschaften, mit hoffentlich bleibenden Eindrücken und neuen Freundschaften im Gepäck, wieder auf die Heimreise.

Zeit für ein kleines Berlin-Programm bleibt am Rande des Turniers selbstverständlich auch.

Wir freuen uns auf Euch und ein erneutes sportliches Osterfest!
Ihr möchtet auch dabei sein? Dann unbedingt mit der Stiftung Eurosportring Kontakt aufnehmen und sich einen der Teilnehmerplätze sichern.
Ausführliche Turnierinformationen stellen wir Euch auf www.berlin-ostercup.de zur Verfügung.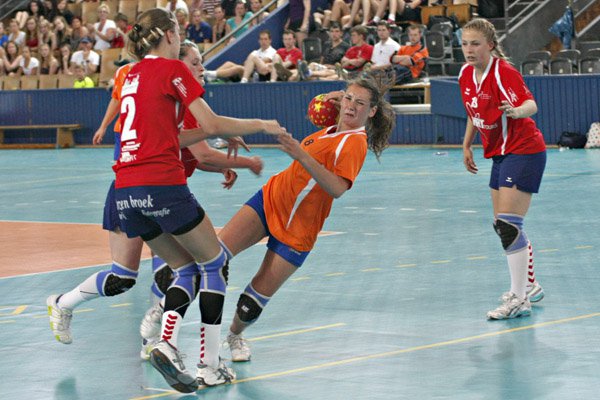 #EN We Welcome you for the 12th Berlin Handball-Cup
For more tournament information please visit www.berlin-ostercup.de
For already the 12th time the Berlin Handball Cup takes place at Berlin's destrict Lichtenberg. Like all the years before it will be a meeting place for handball players of different origins. Games will be played at about ten venues all over the Lichtenberg disctrict of Berlin. The centre of the whole event will be the Big Sports Hall at Berliner Sportforum, the largest sports and training complex all over Europe.
The tournament starts on Easter friday with arriving of the teams.
On saturday the preliminary rounds will be played. Finals and placement matches take place on sunday. Reguallary every team will compete five times in three preliminary and two final or placement matches with a duration of 25 minutes.
After all matches are played and we are certain about winners and placements there will be a discotheque on sunday evening. On monday all teams return to their homes, hopefully with long lasting impressions and new friendships.
Of course there will be time for a sightseeing programme besides the tournament.
We are pleased to welcome you to an Easter weekend full of sports and pleasent encounters.
You like to participate? Contact Eurosportring.
For more tournament information please visit www.berlin-ostercup.de